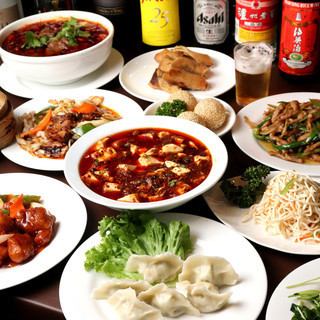 [2 hours] All-you-can-eat <100 types> & All-you-can-drink <50 types> plan ≪3,600 yen per person≫
3960 yen(Tax included)
*Reservations are possible for 2 or more people!
All-you-can-drink available

All you can drink menu
[2 hours] All-you-can-eat and all-you-can-drink courses are available! You can enjoy most of the <100 kinds> of exquisite Chinese cuisine! In addition, <50 kinds> of drinks are all-you-can-drink! ≪You can enjoy it for 3,600 yen, so it's a great deal ☆ Drink plenty♪ Eat plenty♪ It's also recommended for various banquets!!
Course menu
☆☆ All-you-can-eat menu ☆☆
[Appetizer dishes]
Eggs / Spicy Tofu / Roasted Pork / Cucumber Dressed / Dried Tofu Dressed / Steamed Beef with Sauce / Pork Ear Dressed / Jellyfish Dressed / Steamed Chicken with Green Onion / Sticky Chicken / Gizzard Dressed / Hachinosu Dressed /Tomato salad etc…
[Vegetables, tofu, eggs]
Steamed Pork with Sauce / Celery and Dried Yuba / Shredded Potatoes / Stir-fried Tomyo / Mapo Tofu / Stir-fried Water Spinach with Garlic / Stir-fried Tomato and Egg / Beef and Garlic Sprouts / Shiitake Mushrooms and Bok Choy Stir-fried / Double pot meat / Stir-fried pork, cloud ear mushrooms and egg / Stir-fried dried tofu with green peppers / Stir-fried chives and dried tofu / Gomoku tofu / Stir-fried tofu and vegetables / Chinese chive liver / Stir-fried eggplant with oyster sauce / Fried eggplant with sauce / Mapo eggplant
[Meat dishes]
Stir-fried chicken cartilage with chilli / Spicy chicken thigh / Stir-fried chicken with cashew nuts / Chicken with special sauce / Stir-fried green peppers and shredded beef / Stir-fried shredded meat / Green pepper sauce / Stir-fried shredded pork with Chinese miso / Sweet and sour pork / Stir-fried pork with soy sauce / Black vinegar sweet and sour pork / Beef with oyster sauce / Shanghai-style braised pork belly with soy sauce / Stir-fried beef with asparagus
[Seafood dishes]
Chili Shrimp Sauce / Happosai / Stir-fried Shrimp with Egg / Stir-fried Squid, Shrimp and Scallops / Stir-fried Squid and Vegetables / Stir-fried Celery and Squid
[Hot pot dishes/scorched rice]
Shiitake mushroom hot pot / Offal hot pot / Gomoku okoge
[Teppanyaki dishes]
Teppanyaki Tofu / Teppanyaki Beef / Teppanyaki Offal / Teppanyaki Squid
[Meals (ramen, fried rice, soup, porridge)]
Gomoku Ramen / Hot and Sour Soup Noodles / Dandan Noodles / Ramen with Seafood and Greens / Gomoku Yakisoba / Fried Rice Noodles / Jajang Noodles / Chinese Rice Bowl / Beef Kakehan / Spicy Fried Rice / Gomoku Fried Rice / Tianjin Rice Bowl / Corn Soup / Hot and Sour Soup / Vegetables and Tofu Soup/Petan porridge/Seafood porridge/Vegetable porridge
[Dim sum/dessert]
Dong Shun'ei Special Gyoza/Boiled Gyoza/Chinese-style Fried Bread/Higashi Shun'yung Special Manju/Radish Mochi/Spring Rolls/Sesame Dumplings/Boiled Dumplings with Black Sesame Bean Paste/Boiled Dumplings with Peanut Bean Paste/Almond Tofu/Mango Pudding
*Last order is 20 minutes.In case of extension, please let the staff know.
*Please do not leave any food or drink behind.
*Cannot be taken home.
*Please understand that if the number of people increases during the meal, the price will be as shown on the menu regardless of the time.
*A minimum of 2 people can be accepted when making a reservation.
*When canceling, please contact the store in advance by phone.
All-you-can-drink menu
·beer
· Asahi draft beer
·sour
・Lemon sour / Kyoho sour / Lychee sour / Apple sour / Grapefruit sour / Plum sour / Yuzu sour / Oolong high / Shochu high
・ Shochu (rock / water / hot water)
・ Kurokirishima (potato) / Kuromaru (potato) / Ikkokumono (potato) / Hidden storehouse (wheat) / Akaenma (wheat) / Shinro
·Fruit wine
・Keika cin sake / Apricot wine / Lychee wine / Apple wine / Kyoho wine / Yuzu wine
·Sake
・Shochikubai/Chrysanthemum Masamune/laurel tree
·Cocktail
・Cassis Orange / Cassis Oolong / Cassis Grapefruit
·whisky
・Whiskey with water/clear highball/black Nikka clear brand
· Chinese sake
Shaoxing wine
·Soft drink
・Cola/orange juice/grapefruit/apple juice/oolong tea
・ Chinese tea
・Oolong tea / Marika tea
Reservation deadline

Until 20 o'clock on the desired shopping day
Available days for reservation

Monday - Sunday - Public holidays - Holidays
2022/12/22 update