Course details
【2 hours】 All you can eat <100 kinds> & All you can drink <50 species> Plan «3,250 yen»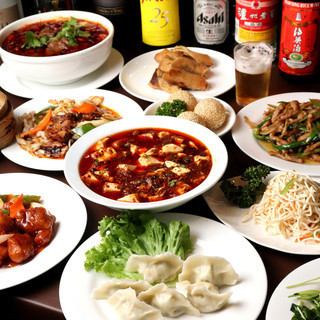 3250 yen
Tax included * Reservations can be made for over 2 people!
All-you-can-drink available

All you can drink menu
Reservation deadline

Until 20 o'clock on the desired shopping day
Available days for reservation

Monday - Sunday - Public holidays - Holidays
【2 hrs】 All you can eat and all you can drink unlimited deals prepared! Offering 100 best-selling Chinese cuisine, you can almost drink! <50 different items> All you can drink as you can! One person «3,250 yen» so you can enjoy it ♪ It is very profitable ☆ Please drink plenty ♪ Eat ♪ It is also recommended for various banquets!
Course menu
☆☆ All you can eat menu ☆ ☆
【Appetizer dish】
Petan / Petan bean curd / Chashiwu / Prawn with cucumber / Dried tofu mixed / Sour steamed beef sauce / Pork belly / Thing with jellyfish / Steamed chicken onion / sticky chicken / sandwich / beef taste / hachinosu / Tomato salad etc etc ...
【Vegetables · Tofu · Eggs】
Steamed pork sauce sauce / celery and dried eel sauce / stir frying potato / stir-fried tofu / hemp tofu / stir-fried garlic with tomatoes and egg / beef and garlic sprout / shiitake and chingeng Stir fry / stir-fried pot meat / stir-fried eggs / stir-fried tofu stir-fried / stir-fry tofu / grated tofu / fried tofu stir-fried / vegetable stir-fried / birch / eggplant oyster sauce sauce / fried eggplant sauce / eggplant
【Meat dishes】
Stir-fry chicken with chicken cartilage / hemp flavor of chicken peach / stir-fried chicken and cashew nut / sauce made with chicken sauce / stir-fried sweet pepper and beef / chopped meat / braised beef / shaved pork sauce / / Sautéed fried pork sauce flavor / black vinegar sweet and sour pork / oyster sauce of beef / boiled soy sauce of Shanghai style pork roses / beef and asparagus stir-fry
【Seafood dishes】
Prawn chili sauce / Hatuzu vegetables / fried shrimp eggs / squid, shrimp, fried scallops / stir-fried vegetables and fried / stir-fried celery and squid
【Nabe dish · Okake】
Shiitake mushroom pot / Tankou / fifth grill
【Teppanyaki cuisine】
Teppanyaki of tofu / Teppanyaki of beef / Teppanyaki of moto / Teppanyaki of squid
【Meals (ramen, fried rice, soup, porridge)】
Gosho ramen / Bonin noodles / Bonin noodles / Seafood cooked ramen / Gosho yakisoba / Grilled rice vermicelli / Jar jar noodles / Chinese donburi / beef-cooked rice / fried rice with fried rice / fried rice with fried rice / Tianjin rice / corn soup / acid tofu / vegetables and tofu Soup / Petan porridge / seafood porridge / vegetable porridge
【Dim Sum / Dessert】
Higashi Honagao special dumplings / water style dumplings / Chinese style fried bread / East Honkanaga special baked manju / radish mochi / spring roll / sesame dumplings / black sesame sauce boiled dumplings / peanutsan boiled dumplings / apricot tofu / mango pudding
※ The last order will be a 20 minute system.In case of extension please tell the staff.
※ Please do not leave food and drinks.
※ You can not take out.
※ If you increase the number of meals during the meal, regardless of time, the price will be displayed as indicated on the menu, so please understand.
※ When booking you can accept from at least 2 people.
※ When canceling please contact us in advance by phone.
All-you-can-drink menu
·beer
· Asahi draft beer
·sour
· Lemon Sour / Giant Peak Sour / Lychee Sauce / Apple Sour / Grapefruit Sour / Plum Sour / Yuzu Sour / Oolong Hi / Shochu High
· Shochu (rock / water split / hot water split)
· Black Kirishima (potato) / black circle (potato) / Ichiban (potato) / hidden storage (wheat) / red Enma (wheat) / Jinro
·Fruit wine
· · · · · · · · · · · · · · · · · · · · · · · · · · · · · · · · · · · · · · · · · · · · · · · · · · · ·
·Sake
· Shochiku Meishi / Kaori Kikumi / Laurel
·Cocktail
· Cassis orange / cassis oolong / cassis grapefruit
·whisky
· Whiskey water split / clear high ball / black nicker clear brand
· Chinese sake
Shaoxing wine
·Soft drink
· Coke / Orange Juice / Grapefruit / Apple Juice / Oolong Tea
· Chinese tea
· Oolong tea / Marika tea
2018/09/11 update